Photo-ville!
(The mysterious land of really, really old photos)
Ladies and gentlemen, I introduce you to more old family pictures -as if you hadn't seen enough of these already. Pictures included here are of the surnames Sponseller, Haverstick, Wagaman and Weikert.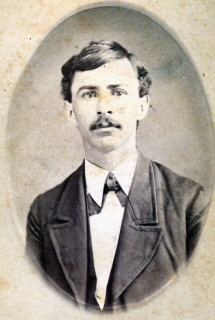 Above is my great-great grandfather Rufus Sponseller. This is obviously looking like it's from the civil war era.
This is about as old as it gets folks. The first picture is of George and Maria (Spitler) Weikert. The couple were married in 1780 and George fought in the American Revolution. George would be my great great great great grandfather. His father, John Andrew Weikert came to America from the Palatinate region of Germany in later half of the 1700s. The second picture is of Elias and Sarah (Weikert) Sponseller. Sarah is my great great great grandmother.
In the picture on the left, my grandmother Patricia (Wagaman) Haverstick is holding my dad, John Haverstick. In the picture above, Patricia is holding Jim. IMHO, that pic is like looking in a mirror.
Above are dad and Jim playing with their dog Woof. I believe Woof was an Airedale. At the right dad and Jim are with Patricia. Notice how they seem to dress alike?
Colorized pictures always look interesting -especially with what they decided to colorize. In this case, it was the lovely striped sock Jim (left) and John (right) are wearing. Is it just me, or does Jim look like he's plotting something in this picture?
<-- Home
COPYRIGHT © 2007 BY AMANDA HAVERSTICK.